Several Mordants in one dye bath

When Life Gives You Lemons Make Art
The use of mordants for a variety of colors dates back to the Egyptians and was noted by Pliny the Elder.
---
Michel Looking at Tropical Plants
---
Michel Garcia At My Studio
---
Current Work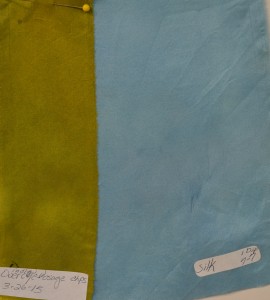 Silk dyed in indigo one dip and over dyed with osage wood shavings 3-26-15
David gave me some apricot wood shavings that I used on silk …3-28-15 and earlier I used queen anns lace over dyed with indigo 9-7-14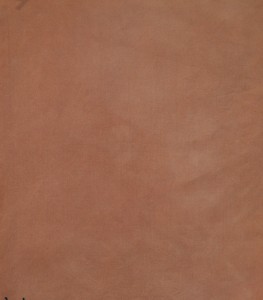 Dyed with Pomegranate skins and pits 3-2-15
Two pieces dyed with queen anns lace -2014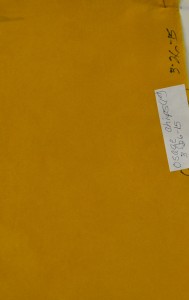 Osage chips from a local wood turner  3-26-15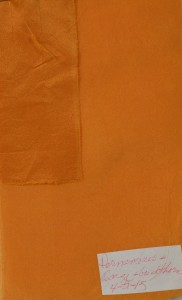 5-A mixture of dye bath leftover materials from pernambuco, osage, and buckthorn 4-2-15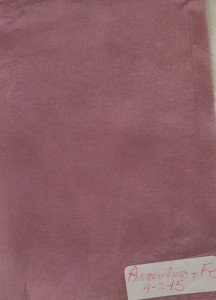 Pernambuco and Fe 4-2-15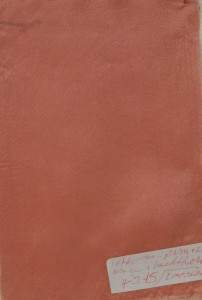 Same combination as #5 except more pernambuco 4-2-15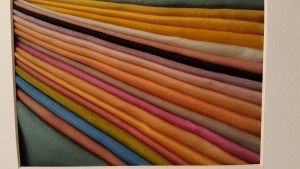 I make pocket squares when I am dying and over dying new materials-
These were all done in spring 2015
---
From Antiquities to the 21st Century "Natures Gentle Colors" The Traveling Exhibit!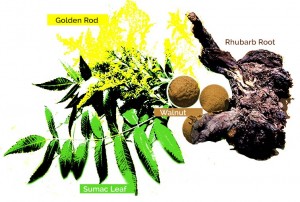 September 2014 (Northfield, MN) – A Minnesota State Arts Board Artist Initiative grant capstone traveling exhibit, profiling Visual Artist Judy Saye-Willis' latest work, will take place November 1 – March 15 at Art Centers throughout southern Minnesota on the subject of using natural dyes to paint two dimensional work. Framed pieces featuring a variety of techniques will be on display – some of which use plants indigenous to the area.  The progressive exhibits will take place in the cities of Red Wing, Mantorville, Luverne and St. Peter.
"The project is about developing natural dye materials and methods that can be used to create art for exhibition," said Saye-Willis, who continues to pursue chemistry and botany information in an effort to identify regional plants that can be used in the natural dyeing process.
"Some of the local materials I have come across for dying experimentation including rhubarb root, black walnut, sumac, goldenrod, prairie grasses, flowers from local gardens and a local source for pernambuco, said Saye-Willis.
"Most of the current natural dyers I have met or read about are artisans dying wool for spinning and weaving and dying fabrics for clothing and art to wear. Small quantities of natural dye materials are available today and are used to color fiber, cosmetics and food. Some artists grow dye gardens while others scour the local countryside and/or order dye materials from the few suppliers of natural dye materials that exist in the US, Canada, France and other international countries. My research has uncovered the materials and processes used to create the beautiful intricate prints from France and indigo blues and shibori from Japan," said Saye-Willis. "Information is not readily available and the work I have done in my studio has been mainly trial and error in an effort to identify techniques that work."
Saye-Willis' studio is in Northfield, Minnesota. For more information and samples of her natural dye work in preparation for the traveling exhibit, visit Judy Saye-Willis' blog at http://saye-willis.com/.
A traveling exhibit will take place Nov 1 – March 15. For details on event time and location click here.
Judy Saye-Willis is a fiscal year 2014 recipient of an Artist Initiative grant from the Minnesota State Arts Board. This activity is made possible by the voters of Minnesota through a grant from the Minnesota State Arts Board, thanks to a legislative appropriation from the arts and cultural heritage fund.
---
Natural Dyes
The current samples are experiments I have done to try  to identify  various natural dye materials that can be successfully used to create designs and images on silk and used for 2D framed work.
I tried to identify local materials and develop methods of using those materials. I know that many conditions have an impact including soil, water and when the materials were harvested. I had an unexpected surprise when I used rhubarb root from a friend's garden.  The dye material I used from fall 2013 produced a beautiful golden yellow (sample A) and root from the same garden in spring 2014 dyed a tan color (sample B). I must try root from her garden in fall 2014 to see if it might be a seasonal consideration or possibly soil moisture content.
Take a look at this gallery. Click on an image to find a unique number, then see below to follow the notes I've taken and see the discovery process I went through using natural dyes.
Sample C was shibori stitched, dyed in rhubarb root , stitched again and over dyed in indigo. This piece was supposed to be part of my capstone exhibit. My natural dye project has given me the opportunity to work with symplocos.
Two pieces of silk are screen printed and two pieces have a brush brushed design. Started with symplocos + vinegar ..boil and filter reducing the concentration of symplocos for each screen. Dry and clean with wheat bran
100%- butterfly (upper L)
75% – flowers
50%- butterfly (LL)
25%- background
2-2 piece sets… screened and the other brush painted and then 1 pair dyed is dyed in madder sample #1 and 1 pair is dyed in logwood grey sample#2
Sample#3 is an assortment of techniques that I experimented with. I used dye extracts , alum and guar gum. Guar Gum breaks down after three days so I mixed only what I needed. I used masking tape to separate the stripes, freezer paper stencils for the spiral and a potters rubbing plate for the rubbings. The dye extracts were madder, weld, cochineal and logwood purple and grey.
Sample #4 is screen printed with madder, logwood purple, weld, and over screened with logwood grey extracts, alum , and guar gum.
Sample#5 used extract, olive oil soap and alum mordent and cleaned with chalk and was a test piece. It appears that some of the mordant was not totally dissolved. The indigo is from a small ferrous bottle thickened with gum arabic. Unsuccessful green.
Sample#6 Extract + soap…Alum mordant.. cleaned with chalk Screens did not work well and the stamped images were ok. The indigo brushed lines stayed, the walnut screened well and the tannin as a resist.
Sample#7 I used heavier kimono silk that did not clean well and was truly a test of color which shifted with cleaning. I mixed- weld +cochineal =orange and -weld+ logwood = green. More and less
For sample#8 I used inko resist , brushed on thickened dyes and steam set.
Sample #9 The first time I tried using screens with extracts thickened with olive oil soap
Sample #10 I alum mordanted the silk and it was a collaborative project with Dee Teller. She drew the design with inko resist and painted with thickened dyes. It was steam set. I can modify and try the same technique again
This piece is another experiment and I brush on thickened dye and soy wax Sample #11
4) pieces- inko resist and other ..alum mordant… wheat bran clean Sample # 12 is a variety of thickeners and extracts. I also wanted to find out what would happen when I brushed ferrous over a dye. It does darken it. 13 I tried salt with various thickened dyes. It would be worth trying again. 14 is again various thickened dyes and brush strokes & 15 is at the framer. I let these pieces set for 2-3 weeks… steamed 2 hours… sythropol wash. Dried and cleaned
"Windows" Alum mordant brushed on and partially dried Sample#16 I used thickened dyes and a pellon screen. Sequence of dyes used with screen
1-Myrobalon
2-Osage Orange
3-Madder
4-Indigo (needs work)
5-Logwood gr
Window- walnut paste
Leaves- foil s/b gold leaf
Small pieces.. 1 indigo dips Sample #17
 Indigo pieces
-Indigo brush stroke on silk from dried scum around top of the indigo vat container Sample #19 Worth exploring.
-Organza.. clamp resist- brush stroke with Fe Sample #20
-Clay resist screened with one dip Sample#21
-Clay resist balloon stamps.. several dips Sample #22
-rhubarb dyed- clay resist with leaf stamp- overdye indigo Sample #23
-same Sample#24
Scarves with designs by Dee Teller
-Rhubarb dyed… soapy extract applied with sumi brush… cured 4 weeks Sample #25
-White cherry blossom.. soapy cochineal.( tried red Katazome pigment??)Black from France, cured 4 weeks Sample #26
I prepped the silk with soy milk and tried everything I could think of and cured for weeks ….steamed set Sample # 27
Logwood purple=orangish=purple after steaming- washed…back to brownish orange????? I think it was logwood grey Sample #28
Dried indigo scum worked ??Sample #29
Misc
-Logwood grey , shibori stitched and over dyed with madder go fiqure Sample # 30
-Avocado skins and pits .. a nice soft coral color. Sample #32 Lines??? Folded fabric
-Pernambuco just keeps giving and giving Samples #33 ….. 2nd and 3rd baths
Samples #34 -logwood was blotchy. I need to work on that
Symplocos paste applications with breakdown printing Sample#35
Over dyed with indigo Sample #36. This will be exiting to pursue.
The last piece is an eco printed scarf using flowers from Gretchen's garden
---
My trip to France
In April of 2013, Tom and I took a trip to the villages of Provence, France to study with Michel Garcia, a chemist, botanist and natural dye expert, and was were able to bring home a 3-ring binder full of 133 new samples of natural-dye work that was completed during the stay.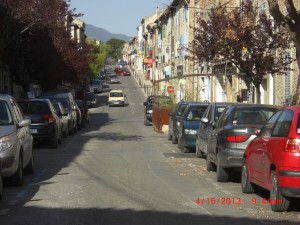 This is the main street in the village where we stayed in Lauris, France.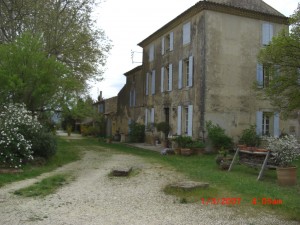 This is the vineyard farmhouse where we stayed.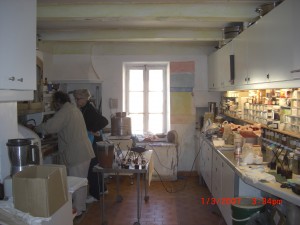 Here I'm working with Michel Garcia in his dye lab.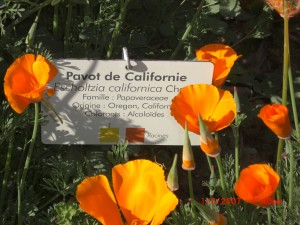 This is one of the natural-dye specimens in the gardens in Lauris.
---