About the Artist
Judy has been a fiber artist for most of her life and each new day brings new eyes and new inspiration. The needle and thread has genetic roots in her life. Her grandmother turned every piece of cloth in her home into a living history.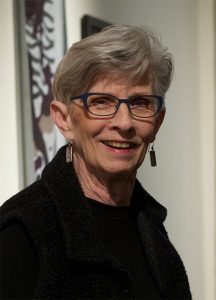 In 2002 the needle and thread began weaving through Judy's unique jewelry and later the bindings in her book arts. Whether working on jewelry, fiber, or book arts she strives to make work with exciting color, texture and strong eye appeal.
Judy is a Minnesota native and brings to her work the visual memories of the north woods, the lakes and rivers, the bluffs and valleys, and the fields and prairies. Quiet reflection brings inspiration for unlimited possibilities in her work. The years she spent in business has provided her with the self discipline needed to go to her studio and do the work focusing on a project until it is finished.
Her analytical and problem solving skills serve her well in Act III. As the energy slips away the needle and thread lets her rest with busy hands. Three models encompasses her work..1- Designing and planning, 2-What if, and 3-Ooops. The creative muse is a frequent visitor to the what if and ooops models.
Judy Says-Willis Artistic Resume

©KSMQ Public Television
Published on Apr 24, 2017