From Antiquities to the 21st Century "Natures Gentle Colors" The Traveling Exhibit!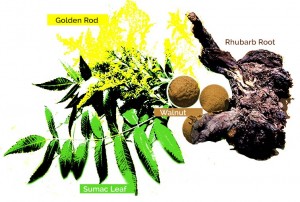 September 2014 (Northfield, MN) – A Minnesota State Arts Board Artist Initiative grant capstone traveling exhibit, profiling Visual Artist Judy Saye-Willis' latest work, will take place November 1 – March 15 at Art Centers throughout southern Minnesota on the subject of using natural dyes to paint two dimensional work. Framed pieces featuring a variety of techniques will be on display – some of which use plants indigenous to the area.  The progressive exhibits will take place in the cities of Red Wing, Mantorville, Luverne and St. Peter.
"The project is about developing natural dye materials and methods that can be used to create art for exhibition," said Saye-Willis, who continues to pursue chemistry and botany information in an effort to identify regional plants that can be used in the natural dyeing process.
"Some of the local materials I have come across for dying experimentation including rhubarb root, black walnut, sumac, goldenrod, prairie grasses, flowers from local gardens and a local source for pernambuco, said Saye-Willis.
"Most of the current natural dyers I have met or read about are artisans dying wool for spinning and weaving and dying fabrics for clothing and art to wear. Small quantities of natural dye materials are available today and are used to color fiber, cosmetics and food. Some artists grow dye gardens while others scour the local countryside and/or order dye materials from the few suppliers of natural dye materials that exist in the US, Canada, France and other international countries. My research has uncovered the materials and processes used to create the beautiful intricate prints from France and indigo blues and shibori from Japan," said Saye-Willis. "Information is not readily available and the work I have done in my studio has been mainly trial and error in an effort to identify techniques that work."
Saye-Willis' studio is in Northfield, Minnesota. For more information and samples of her natural dye work in preparation for the traveling exhibit, visit Judy Saye-Willis' blog at http://saye-willis.com/.
A traveling exhibit will take place Nov 1 – March 15. For details on event time and location click here.
Judy Saye-Willis is a fiscal year 2014 recipient of an Artist Initiative grant from the Minnesota State Arts Board. This activity is made possible by the voters of Minnesota through a grant from the Minnesota State Arts Board, thanks to a legislative appropriation from the arts and cultural heritage fund.
---